Configure your ShareCenter for ultimate remote access and management in the palm of your hand – simply log into your personal account via mydlink.com or mydlink Access – NAS mobile on your iPhone, iPad or Android device and experience the benefits of D-Link's industry-leading Cloud Services. Access and share digital content to your computer, tablet, and Smartphone without worrying about complicated network settings. Whatever your personal storage goals and needs are, the Cloud-supported ShareCenter delivers the versatility, performance and remote accessibility your home or small business demands.

Share
ShareCenter devices connect directly to your home network, delivering storage and sharing solutions to all your connected devices. That means while you're backing up work documents from your laptop, the rest of the family can stream stored photos, music, and movies to their tablet or smartphone. And with simple yet powerful privacy settings, you'll have total control over file access and distribution.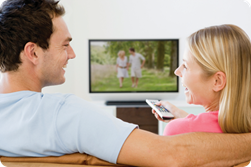 Stream
Now that you've backed up your favorite music, photos and movies, wouldn't it be great if you could stream and share them to all of the devices you already own? With ShareCenter, you can. ShareCenter makes it easy to wirelessly stream digital media to your entertainment systems and mobile devices. Keep your digital world at your fingertips with ShareCenter.

Protect
Don't lose your precious family movies, photos and other important files in the event of a hard drive failure. Protect your memories, your work, and your entertainment -- give yourself peace of mind with the security and convenience of ShareCenter storage.
Manage
ShareCenter solutions combine feature-rich customization options with the ease of use you've come to expect from D-Link. With the included software, users can quickly and easily create schedules for real-time, full or incremental backups, while also setting storage quotas for specific users and groups. ShareCenter offers robust content management without the hassle.
How it Works