The Cloud Router 5700 (DIR-865L) delivers up to 1750Mbps for a fast, secure wireless connection - ideal for HD video streaming and gaming. And with an integrated high-powered Amplifier, the Cloud Router 5700 covers your home's hard-to-reach areas like upstairs rooms and outdoor patios. D-Link's Cloud Routers also provide the added benefit of remote network management and remote file access via mydlink Cloud Services. Take advantage of everything mydlink Cloud has to offer through the free SharePort™ Mobile, QRS Mobile, and mydlink Lite apps and web portal (mydlink.com).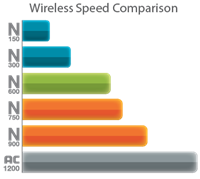 Wireless AC - World's Fastest Wi-Fi
What does Wireless AC mean for your home network? Flawless HD video streaming, faster gaming, and lag-free Skype and Facetime calls, all with less Wi-Fi interference for smooth, lightning-fast performance. And while your home gains all the cutting-edge benefits of AC, the Cloud Router 5700 is also compatible with all of your current Wireless N products. It also comes with 4 Gigabit ports for connecting Ethernet-enabled devices. This allows you to connect up to 4 entertainment devices for fast connections, ideal for your entertainment center. Or give your home office more speed and productivity than you ever thought possible.
Dual Band Technology
The Cloud Router 5700 delivers Dual Band Technology for intelligent, versatile, interference-free bandwidth. Check your email and surf the Internet on the 2.4GHz band; or game, make Skype calls and stream HD movies to multiple devices using the cleaner, interference-free band. What you like to do online, Dual Band has you covered.
With its built-in high-powered amplifier, you can enjoy wireless coverage throughout your home with the Cloud Router 5700. Watch videos in an upstairs room, Skype from your home office, or browse and stream from your couch – with the Cloud Router 5700 you can connect wherever and however you want.
With the free SharePort Mobile app and built-in USB port, you can locally access your favorite videos, music and photos on a connected USB device wirelessly from your tablet or Smartphone. Supporting storage devices of up to 500GB, the SharePort Mobile app lets you quickly and easily store thousands of movies, pictures, movies and more, all in one centralized location. The friendly interface lets you easily find your files by category, whether you're looking for music, video or documents. And with DLNA, the Cloud Router 5700 not only connects to any Ethernet-equipped device, but virtually any device, automatically.
D-Link's line of Cloud Routers makes setting up your D-Link Cloud Cameras and other devices* even easier with Zero Configuration technology. Connecting your D-Link camera with any router is easy – make it even easier with your D-Link Cloud Router. Zero Configuration automatically configures and intelligently syncs your D-Link cloud camera to your mydlink account – it's as easy as connect and view. You can even set up your network from your iPhone, iPad or Android device with our free QRS Mobile application. With push-button connectivity and 128-bit security encryption standard, adding devices to your secure home network is as simple as plug and play. The Cloud Router 5700 is Wireless G backwards-compatible.